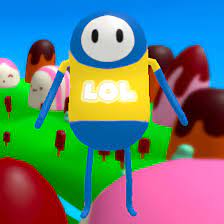 Welcome to the LOLBeans! Your goal in the game is to get the highest score or be the last player. Race to the end of the obstacle course in battle-royale-style elimination gameplay. Move through the levels until you're the only bean left standing. Don't forget to tell your friends about LOLBeans if this is something that you find interesting!
How To Play
WASD or arrow keys to move.
Space bar to jump.
If you want to try another game similar to LOLBeans, then be sure to check Fall Beans!