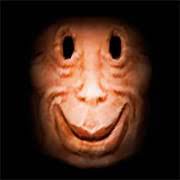 Mr. Noob Eat Burger is a 3D horror survival game in which your aim is to gather all of the burgers distributed over a bizarre and unusual area. Beware of Mr. Noob, the burger guardian, who will go to any length to defend his prized possession.
You must explore the dark and perilous terrain with just a torch and a burger detector to find and swallow all of the burgers before Mr. Noob catches you. The suspense rises as you strive to outrun and dodge him while feeding your ravenous appetite for tasty burgers.
Use your flashlight to illuminate dark nooks and reveal secret passages as you explore the haunting grounds. Keep an eye on your burger detector; it will lead you to the delicious burgers that are waiting for you. But be cautious and attentive, for Mr. Noob lurks around every corner, ready to attack if you let your guard down.
How To Play
Use the W, S, spacebar keys, and the mouse.