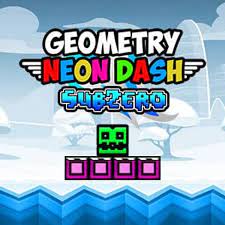 Another great game in the Geometry Dash series is Geometry Neon Dash Subzero. You have to control your small, fast geometric cube again and try to get through a series of difficult levels. In this episode, you play through a set of levels that are cold and full of bright neon lights. As usual, your cube moves on its own, and all you have to do is control how it jumps.
Make sure to jump at the right time and watch out for the obstacles. You must also try to collect the white orbs as you move through the game. You can use these orbs to buy new cube models from the store. If you like this version of Geometry Dash, you might also like Geometry Dash Meltdown.
How To Play
Use up arrow key / space / left-click button to dodge the obstacles.