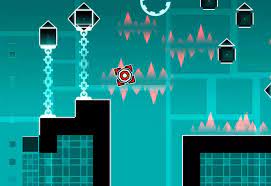 Gameplay in the brand-new, thrilling Geometry Dash Ice Cave. There are three levels in it: a cube, a UFO, and again a cube.
First to the first stage - the cube. The stage itself is very long and full of pitfalls. We're basically going to be jumping over spikes and clicking on orbs here, as well as jumping over traps (rogue trampolines) and jumping on different blocks and buildings. In the end, we, jumping from the pillar, fell into the UFO portal to get to the next stage.
Next is the UFO stage. Here we have to fly without touching the spikes with a saw and without crashing into blocks, buildings and pillars. The main feature of the stage is its gameplay. Now he won't surprise anyone, but for the time being he is the original. Short and easy steps. Finally, we fly into the cube portal.
Then comes another stage - the cube. It is similar in itself to the first stage, but it has one difference - there are many times more pillars here. Here you also need to jump over spikes, saws and traps (again, rogue wanderers), click on the right orbs and jump on columns, buildings and blocks. Be careful - in the end, if we jump on the top blocks, we will die from the saw.
How To Play
Press [up] [w] [space] [ctrl] [shift] or click to jump and to jump on yellow rings
Avoid the spikes
In ship mode, hold to fly up and release to fly down
Hit a yellow pad to jump high
Hit a blue pad to jump higher (missing a gravity portal)
For bonus points, collect the coins
Press L to toggle effects (to reduce lag)
Press B to toggle background (can also reduce lag)