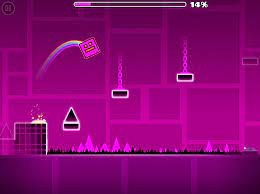 Welcome to the Geometry Dash Easy. The objective of the game is to keep from colliding with them. If you don't avoid becoming stuck by jumping over the obstacles and being strategic about where you stand, you'll have to start the level again. In order to access further cubes containing characters, you will need to collect stars while playing the game. Put yourself to the test!
If you like to play Geometry Dash for free in your web browser, try the game Geometry Dash Utopia Dash!
How to Play
Press [up] [w] [space] [ctrl] [shift] or click to jump and to jump on yellow rings.
Avoid the spikes.
In ship mode, hold to fly up and release to fly down.
Hit a yellow pad to jump high.
Hit a blue pad to jump higher. (Missing a gravity portal)
For bonus points, collect the coins.
Press L to toggle effects. (To reduce lag)
Press B to toggle background. (Can also reduce lag)
Cloud does work, but it only records 2 scores.